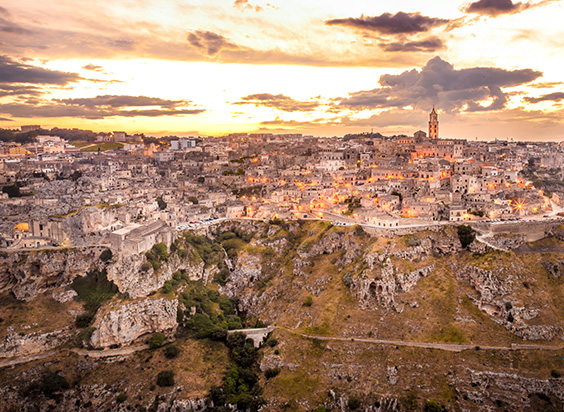 Matera: European Capital of Culture for 2019
Matera is a city located in the South of Italy, it is famous for its ancient urban area, called "Sassi", which consists of two harsh small valleys surrounding the Rione Civita described, in an historical document written in 1204, as "settled rocky Rioni".
The Sassi represent a very particular urban system: a whirling and chaotic sequence of alleys and dwellings developing in a vertical way. On one side of them there is the Civita, here, between 1230 and 1270, they built the Cathedral in Apulian-Romanesque style, it is one of the most important architectural manifestations of the town.
Moreover, the historic district, called the Piano, is the most artistically important area of Matera: here you can see buildings and churches that testify the different architectural styles from the end of the Seventeenth Century until today.
In the 1993 the Sassi were recognised as World Heritage Site, it means that they were selected by UNESCO as having cultural and historical significance and they were judged important to the collective interests of humanity.
Furthermore, Matera will be the European Capital of Culture for 2019.
So, at the moment, Matera is in the spotlights and it is a required tourist destination: the New York Times recommends to visit Matera and Basilicata in 2018.
What are you waiting for? Get in touch with us if you need an accommodation.