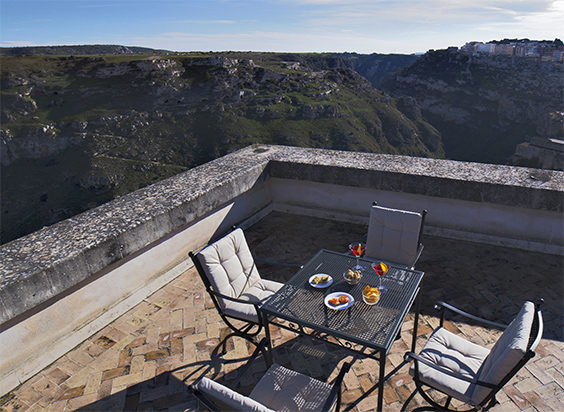 Bars and Restaurants in Matera Collection Brand
Again to inspire you. Located in exclusive locations the restaurants and the bars part of Matera Collection brand are great places where to wind down at the end of the day with a cold drink or an intimate dinner. Our posh restaurants and comfortable bars can enhance your visit.
You really are spoiled for choice.
The roof Terrace Bar at Palazzo Viceconte is a window on Matera and an exclusive place where you can stop by to relax with a drink or a dinner and enjoy the view.
Roof garden at Palazzo Gattini serves appetizer and dinner to satisfy your palate anytime, furthermore it is an exclusive location to organize events in a lovely terrace in Matera.
Restaurant at Masseria Fontana di Vite uses local, seasonal food and vegetables and fruit from the hotel's farm. Furthermore it can satisfy vegetarian and vegan customers.
Alcova Restaurant at Palazzo del Duca is a posh restaurant where you can taste interpretations of traditional and local cuisine.
Restaurant at Quarry Resort is a panoramic terrace on Sassi di Matera, a great restaurant to taste local flavours, wines or cold drinks.
Regia Corte Restaurant at Resort Sant'Angelo is great to wind down at the end of the day and have a delicious dinner.
Finally, if you love food and if you really want to discover the traditional cuisine you will enjoy a tasting tour around Matera organized by Ferula Viaggi.
Thinking about holidays is a way of focusing on more positive things.
Meanwhile, we are taking care of us and you!
Photo by Photo by palazzoviceconte.it