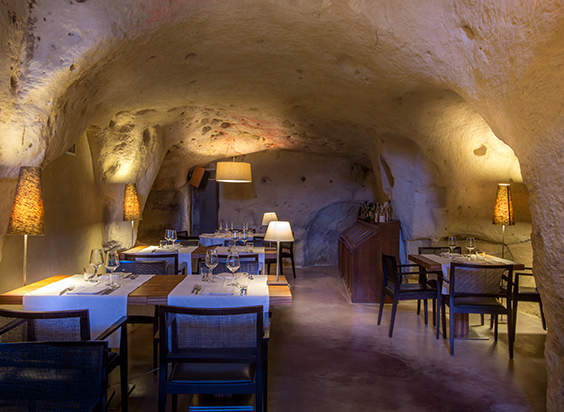 Walking the alleys of the old town of Matera you may find places where forms and figures of traditional objects are developed, there you could buy unique objects that represent Matera. You will find many places where objects, such as "cuccù" the famous terracotta whistles or jewelleries made from recycled materials, are designed and wrought thanks to the traditional knowledges and the practical abilities of the artisans.
Furthermore, a witness of the artisan abilities and skills spread on the city is the hand-made float (carro trionfale or triumphal chariot) made of papier-mâché that has a main role during the Festa della Bruna, the festival in honour of the protectress of Matera, that takes place on the 2nd July.
Spread on old town and Sassi there are restaurants which propose Lucanian food and wine, and where it's possible to taste new versions of local traditional dishes.
If you are looking for a tasteful and formal atmosphere you might choose between Regia Corte, Le Bubbole, Baccanti and Dimora Ulmo; otherwise, if you prefer an informal setting you might choose La Gatta Buia or pizzeria Oi Marì.
Choose Matera and its area for your holidays or for your relaxing week end, you will find exhibitions, music, artisans and good restaurants.
Get in touch with Matera Collection for your accommodation, and have a great summer!